ActivePresenter Export Features
Interactive & Branching
Viewer can interact with the content and the presentation can make different responses based on the viewer's actions. This feature is available when export to HTML5/Flash Simulation
Template Customization
There are several templates (player skins) to choose from and each also has more options to customize.
Document Export
Export to most popular document formats. Further editing with Microsoft Office. Custom layout with Microsoft Word.
Video Export
Export content to popular video formats including AVI, FLV, WMV, WebM, MP4. There are several parameters (frame rate, key frame, quality) to balance between output size and video quality.
SCORM & xAPI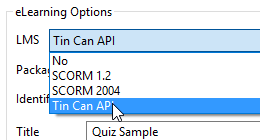 Support SCORM and xAPI, two most popular eLearning specifications which are widely supported by many Learning Management System.
Report & Tracking
Even without using LMS, the learner result can be tracked by using HTTP method. The report data is in form of well-known standards such as XML, JSON, CVS,..
Output Optimization
Better viewer/learner experience when viewing content over the Internet. With small output size, the content download time, storage, bandwidth are minimized.
HTML5 Export
Export to HTML5 Simulation which can run on any modern web browsers and devices (desktop, tablet, mobile…)
Explore more features: