(Last Updated: April 13, 2018)
Is it easy to record screen in Windows 10?
Many people think that it's hard to record the screen on Windows 10. However, the truth is that there are some techniques to do that in the most low-effort way. Let's discover them in this post.Before we begin, it's note-worthy that knowing how to capture software will bring you enormous benefits. For instance, you can make a series of video tutorials, create a software simulation or a video demo for explaining some new features. As a result, your productivity will be improved greatly.
Method 1: Use the available screen recording utility of Windows 10
You might be surprised about this "secret" feature, but it is true. Windows 10 has a native tool called Game DVR which lets you record a video with the time duration up to 2 hours. However, this amazing feature is hidden away inside the Xbox app by default.
Basically, Game DVR is designed to record, edit and share amazing gaming moments. However, you can also utilize this feature to capture the screen, including Microsoft PowerPoint and Internet browsers.
When you want to capture an app, first, press the Windows key + G. Then, the Game bar appears on the screen, as shown below:

A pop-up message dialog asks if you want to open the Game bar. Just check the box "Yes, this is a game". Do this even if your targeting app is not a game because this feature can work with any software, not just games.
While the camera icon allows you to take a screenshot, the circle next to it is designed for recording.

Keep in mind that the Game bar neither records the full screen nor mouse movements. It only records the app window. Besides, your computer has to meet some certain requirements in terms of screencasting.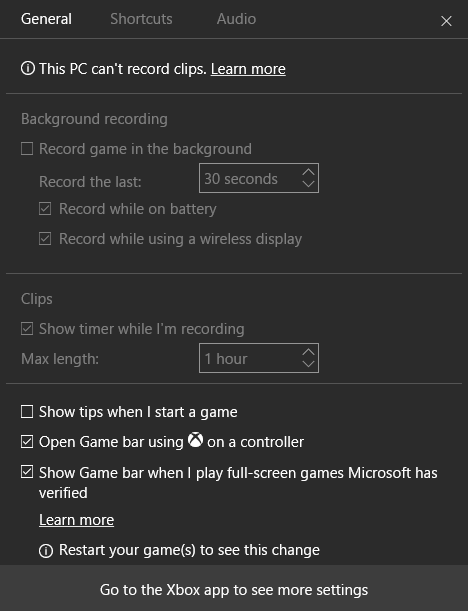 Pros:
Easy to record the screen and take a screenshot.
Record audio with or without sound.
3 options to set the maximum length of clips: 30 minutes, 1 hour or 2 hours.
Allow to customize keyboard shortcuts for recording.
Export video to MP4 with 720p and 1080p resolutions.
Cons:
Logging in the Xbox app is required if you want to further customize your recorded video.
The recording buttons are supported in only PCs that have one of these video cards: AMD, NVIDIA or Intel.
Method 2: Use a standalone screen recording tool on Windows 10
As mentioned above, the Game bar feature has a limited capacity to create a software simulation. Thus, I recommend you to choose one of the best free standalone screen recording tools below.
First, let's take a look at the comparing table to have a clear understanding of their basic features. You can see that ActivePresenter is really an ideal choice for everyone who is looking for a free, yet full-featured tool to record how-to or training videos.
Recording Features
ActivePresenter
Bandicam
Camstudio
Camtasia
Icecream Screen Recorder
Screen-O-Matic
Full screen
A region
Audio from microphone
System audio
Webcam
Mouse movements
Mouse click effects
Lock to Application
Adjust audio volume
Add annotations for mouse
Add annotations for keyboards
Output format
MP4, MKV, AVI, WMV, FLV, WebM
 AVI, MP4
 AVI
 MP4, AVI, WMV, M4A, GIF
 WebM
 AVI, FLV, MP4
Time limit for free version
No time limit
No watermark
10 minutes with watermark (Free trial)
No time limit
No watermark
30-day free trial without time limit, but watermark
10 minutes
No watermark
(Free trial)
15 minutes with watermark
Figure: Feature comparison among best screen recording tools for Windows in terms of recording capabilities
Bellow is a list of pros and cons for each of them that you can use to choose the best.
Recommended list of stand-alone screen recorder for Windows 10 – Latest updates
ActivePresenter is a screen recording and rapid eLearning authoring tool running well on Windows Vista above, including Windows 10. This software is integrated with so many amazing features which allow you to easily capture the screen and edit captured videos.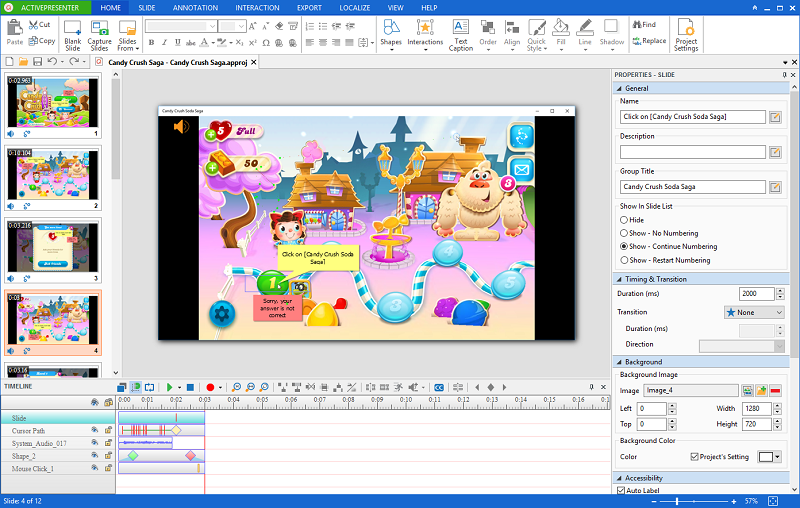 You can record the full screen, an area, audio, and customize the capture area. After finishing recording, ActivePresenter will automatically bring recorded videos to the editing screen for further customizations, such as insert shapes, annotations, and interactive objects. Everything is running smoothly without any interruption.
Pros:
Easy to record any app, games, and movies.
Allow to record audio and voice narration.
Flexible capture area.
Support software simulation.
An ideal choice to create tutorial videos, video demos or explainer videos.
Edit videos right after finishing the recording phase.
Offer powerful video/audio editing capabilities. Voice narration can be added after recording.
A collection of annotations, interactive objects, object styles, and effects.
Support closed captioning.
Cons:
No webcam recording.
Basic image editing options.
Can't publish output videos directly to YouTube. You can manually upload like other normal videos though.
Bandicam is widely well-known as one of the most powerful game streaming and screen recording tools today. This software is very capable of creating a screencast with high quality and quite easy to use. Unfortunately, its free version enables you to record the screen in the 10-minute time maximum and shows watermark in the output.
Pros:
Ideal for gamers to stream games.
Record the screen with high quality (up to 4K Ultra HD resolution).
Support webcam recording.
Output formats: PNG, BMP, JPEG, AVI, and MP4.
Cons:
The free version has a watermark on output videos and 10-minute time maximum.
Lack video editing options.
The Lock to Application feature is not available.
Camstudio is a completely free screencasting tool allowing you to record both the screen and audio. You can take advantage of this software to create how-to videos, explainer videos, and video demonstrations.
Pros:
Record the screen (full screen or just a region) and audio.
Save captured video to AVI format.
Convert AVI videos to Flash videos.
Completely free to use.
Cons:
Limited output formats.
Basic recording options.
Lack video editing features, both basic and advanced.
Installer loads with lots of adwares.
Camtasia is one of the most expensive screencasting tools at the present. However, it offers a number of different options which help you to create amazing and effective video tutorials.
The notable things about Camtasia are that you can choose from many video effects, animated backgrounds, icons and music tracks to make the best version of your video.
Pros:
Record and edit videos professionally.
Support webcam recording.
Customize videos with annotations, transitions, interactions, and effects.
Support multi-track timeline.
Cons:
Relatively expensive in comparison with other screen recorders.
Limited 30-day free trial.
Require periodically paid upgrades (only free update for a new version of the current version).
Watermark appears in output videos in the free trial
Icecream Screen Recorder is also a screencasting tool available on Windows 10. This tool enables you to capture any area of the screen as a screenshot or a screencast. Besides, Icecream Screen Recorder has a user-friendly interface and is quite simple to use.
Pros:
Record the screen in a window or full-screen mode.
Draw, outline, and insert arrows or text to video while recording.
Support webcam recording.
Enumerate steps by using Step tool.
Schedule recordings to automatically start and stop at a certain time.
Cons:
Interactive objects are not available.
Lack many types of annotations like shapes, text box, and zoom-n-pan.
Limited video editing options.
The free version provides very few features and a 10-minute maximum length for a recording.
Screencast-O-Matic is a web-based screen recorder presented by Screencast-o-matic.com. This means that you can quickly create screencast without installation. However, if everything doesn't work well in the browser, you can also download a standalone app to use offline.
Pros:
Quick and easy to use.
Intuitive user interface.
Allow recording with or without a webcam.
Share video directly to YouTube and other platforms inside the app.
Cons:
Most features are available to only the Pro version.
The free version shows watermark on output videos with a maximum limit of 15 minutes.
Which is the best screen recorder for Windows 10?
Outside of the convenience, flexibility and built-in features, choosing an ideal screen recording tool also depends on the nature of your work. In addition, your budget is always worth considering as well. If you are looking for a tool that covers all of these things, I recommend you to try ActivePresenter – The most powerful screen recorder – video editing tool. It will satisfy you in terms of Lowest cost – Full advanced functions – No ads – No time limit – Life time license – Technical support that cares.
If you still want to find out more about Activepresent, read more related tutorials here.
Watch Demo videos here.